We've fired up a brand new blog at the link below – head there for the latest coronavirus pandemic news from around the world:
Summary
Hi, Helen Sullivan joining you now. Here are the key developments from the last few hours:
Cases worldwide passed 9.5 million on Thursday, with the WHO saying it expected global infections to pass 10 million by the end of the week. The current total stands at 9,523,858. At least 484,880 people have died so far.
Brazil confirms 39,483 new cases. Brazil now has 1,228,114 confirmed cases. The death toll is nearing 55,000, with 54,971 fatalities currently confirmed.
Florida reports more than 5,000 new cases. For the second consecutive day, Florida has reported more than 5,000 new confirmed cases of Covid-19. Thursday's rise in reported cases was lower than Wednesday's record-setting mark, but it is only the second time the state has crossed the 5,000-case mark in a day. In total, the state has reported more than 114,000 confirmed cases and at least 3,327 coronavirus-related deaths.
Mexico's finance minister, Arturo Herrera Gutiérrez, has announced he has tested positive for coronavirus but is experiencing only "minor" symptoms.
Cases continue to surge in the Americas, with Texas announcing it is halting its reopening after an alarming rise in infections and hospitalisations. US government experts have said they believe more than 20 million Americans could have contracted the coronavirus, 10 times more than official counts. Mexico confirmed its second-highest daily coronavirus death toll so far, with 947 fatalities on Wednesday.
Europe has seen a surge of Covid-19 cases since countries began easing restrictions, the WHO's regional director for Europe, Hans Kluge, has told reporters. "Last week, Europe saw an increase in weekly cases for the first time in months," he said, adding that more than two dozen countries in Europe had recorded resurgences of the deadly virus.
In Portugal, several parts of Greater Lisbon will have to go back into lockdown from next week as Portuguese authorities deal with a worrying wave of coronavirus on the city's outskirts.
Israel is also experiencing an alarming surge in new coronavirus cases, which has prompted the government to approve the reimposing of a controversial tracking system administered by the country's domestic security agency, the Shin Bet.
The decline in the number of people in England estimated to have Covid-19 has levelled off, new figures from the Office for National Statistics (ONS) suggest. The body said the percentage testing positive has "clearly decreased over time" since the first measurement on 26 April and that "this downward trend has now flattened".
The World Health Organization has warned that hospitals are facing a shortage in oxygen concentrators, which are needed to support the breathing of Covid-19 patients suffering from respiratory distress, as 1m new cases of coronavirus are confirmed worldwide per week.
Volunteers in the UK, Brazil and South Africa received their first doses of an experimental vaccine as part of a human trial run by Oxford University.
China reported 19 newly confirmed cases of coronavirus amid mass testing in Beijing, where a recent outbreak appears to have been brought under control. Of the new cases it reported on Thursday, 13 were in Beijing and one in the neighbouring province of Hebei. Officials say the other five were brought by Chinese travellers from outside the country. No new deaths were reported.
The Centers for Disease Control and Prevention (CDC) said the number of Covid-19 cases in the US may be 10 times higher than reported.
By those measures, an estimated 20 million Americans have been infected by the virus, compared to the official number of 2.45 million infected. The CDC released the new estimate based on testing for antibodies across the country.
"Our best estimate right now is that for every case that's reported, there actually are 10 other infections," CDC director Dr Robert Redfield said on a call with reporters Thursday.
That's because many cases of the illness come with no symptoms, Redfield noted. That does not undermine how dangerous the disease is, he noted. On Thursday, the CDC also expanded its list of who is at greatest risk of Covid-19 complications, removing the age cutoff of 65.
"There's not an exact cutoff of age at which people should or should not be concerned," Jay Butler of the CDC said.
Meanwhile, vice president Mike Pence and other members of the Trump administration were criticised on Thursday for touring Lordstown Motors, in Lordstown, Ohio, without wearing masks.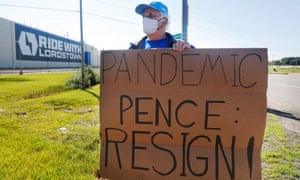 Werner Lange of Niles, Ohio stands in protest outside the Lordstown Motors Corp. where US vice president Mike Pence was speaking following the unveiling of Lordstown Motors' new Endurance all-electric pickup truck in Warren, Ohio. Photograph: David Maxwell/EPA
A preliminary study of patients hospitalised with coronavirus has found the disease can damage the brain, causing complications such as stroke, inflammation, psychosis and dementia-like symptoms in some severe cases.
The findings are the first detailed look at a range of neurological complications of Covid-19, the researchers said, and underline a need for larger studies.
"This (is) an important snapshot of the brain-related complications of Covid-19 in hospitalised patients. It is critically important that we continue to collect this information to really understand this virus fully," said Sarah Pett, a University College London professor, who co-led the work.
The study, published in the Lancet Psychiatry journal, looked in detail at 125 cases from across the UK. Co-lead researcher Benedict Michael, from Liverpool University, said it was important to note that it focused on severe cases.
The most common brain complication seen was stroke, which was reported in 77 of 125 patients. Of these, most were in patients over 60, and most were caused by a blood clot in the brain, known as an ischaemic stroke.
Researchers also found that 39 of the 125 patients showed signs of confusion or changes in behaviour reflecting an altered mental state. Of these, nine had unspecified brain dysfunction, known as encephalopathy, and seven had inflammation of the brain, or encephalitis.
Fewer than one in a hundred children who test positive for Covid-19 end up dying although a small but significant percentage develop severe illness, according to a new Europe-wide study.
A team of researchers led by experts in Britain, Austria and Spain looked at the outcomes of nearly 600 children under 18 infected with coronavirus and found that only a quarter had pre-existing medical conditions.
This is in sharp contrast to adults, among whom the vast majority of patients have underlying health problems.
The team found that more than 60% of children with the virus required hospital treatment and that 8% needed intensive care.
Of the 582 children studied, four died. On the other hand, more than 90 children, or 16%, showed no symptoms at all.
Marc Tebruegge, from University College London's Great Ormond Street Institute of Child Health, said: "The case fatality cohort was very low and it is likely to be substantially lower still, given many children with mild disease would not have been brought to medical attention and therefore not included in this study.
"Overall, the vast majority of children and young people experience only mild disease," added Tebruegge, lead author of the study published in The Lancet Child & Adolescent Health journal.
"Nevertheless a notable number of children do develop severe disease and require intensive care support, and this should be accounted for when planning and prioritising healthcare resources as the pandemic progresses."
Brazil death toll creeps towards 55,000
Brazil has recorded 1,228,114 confirmed cases, up from 1,188,631 yesterday.
The death toll has risen to 54,971, up from 53,830 yesterday, the country's health ministry said.
At least 65 meatpacking employees in the US and 28 food-processing employees have died from Covid-19, the country's largest meatpacking union said.
The United Food and Commercial Workers International Union said that more than 196 of its members who work in meat and food plants, grocers and healthcare facilities have died from the virus.
More than 2,300 members were exposed to or affected by the virus in the last month, the union said.
"Our country's frontline workers are still getting sick and dying," said Marc Perrone, the union's president.
The Times' Friday front page.
Friday's UK edition of The Guardian.
On Friday, Australia's prime minister and the premiers will discuss strategies for containing localised outbreaks, a timetable for reopening arts and entertainment venues, and the return of international students when the national cabinet meets.
It comes as Victoria is battling an outbreak of Covid-19 infections. After the ninth consecutive day of double digit cases in the state, the Andrews government initially requested more than 1,000 Australian defence force personnel to door-knock the two Victorian suburbs at the heart of the latest outbreak, but the state government late on Thursday revised that request down to 200 to assist with testing.
A selection of the front pages of Friday's UK newspapers now, starting with the Telegraph.
More from the Guardian's Mario Koran in California:
Despite the grim report on the rise in new coronavirus cases, governor Gavin Newsom maintained his characteristically stoic delivery, encouraging Californians to continue to do their part by wearing masks and keeping safe distances.
It's only because of the steps taken, he said, that the state has been able to avoid the worst case scenario he floated in March, when he said more than half the state, roughly 25 million residents, could contract the virus over the next eight weeks.
"We are not victims of fate," said Newsom. "We can manifest the future."
He praised the decision by Disney to push back its reopening date, originally set for 17 July, after cases spiked in and around Los Angeles.
The governor also unveiled the creation of an open-source portal for members of the public to scour coronavirus data, a platform he said was partly created in an effort "to back up the health professionals".
The Guardian's Mario Koran reports from California as the state grapples with a surge in new coronavirus cases:
California governor Gavin Newsomdidn't waste time in today's press briefing delivering a blunt message: the state has not yet entered the second wave of the coronavirus pandemic. It is not yet out of the first.
In recent days the picture in California has worsened on nearly every measure. Tuesday set a new record for coronavirus infections, counting more than 7,000 new positive test results.
The positivity rate of those testing has ticked up to 5.6% in the past seven days. The state is currently using 34% of its ICU capacity, a percentage that's also on the rise.
More than 4,200 patients are currently hospitalized due to Covid-19, absorbing 8% of the state's surge capacity.
Between Sunday and Tuesday, California witnessed a 69% rise in coronavirus cases in just two days, as communities reopen from lockdown restrictions. Los Angeles county now leads the nation with more than 88,500 cases, according to data from Johns Hopkins University.
Two private sector companies in the United Arab Emirates have joined forces with Israeli firms to combat coronavirus, according to state media.
"Two private companies in the UAE signed an agreement with two companies in Israel to develop research and technology to fight Covid-19," reported the official WAM news agency.
"This scientific and medical agreement forms part of constructive cooperation aimed at addressing the Covid-19 pandemic to safeguard the health of the region's peoples," it added.
Hend al-Otaiba, director of strategic communications at the UAE's foreign ministry, said on Twitter that the agreement was "in light of strengthening international cooperation in the fields of research, development & technology in service of humanity".
The announcement came shortly after Israeli Prime Minister Benjamin Netanyahu said his country would be cooperating with the UAE to fight the coronavirus pandemic, despite a lack of diplomatic ties.
He said in a statement that "collaboration will be in the areas of research and development and technology, in areas that will improve health security throughout the region".
Netanyahu said the planned cooperation will be formally announced by health ministers for Israel and the UAE.
Florida reports more than 5,000 new cases
For the second consecutive day, Florida has reported more than 5,000 new confirmed cases of Covid-19.
Thursday's rise in reported cases was lower than Wednesday's record-setting mark, but it is only the second time the state has crossed the 5,000-case mark in a day.
In total, the state has reported more than 114,000 confirmed cases and at least 3,327 coronavirus-related deaths.
"We are where we are", said governor Ron DeSantis.
He added that many of the new cases are in younger, healthier people.
People can avoid spreading the virus by wearing masks, he said, along with avoiding big crowds and not being within close quarters with lots of other people indoors.

Almost all remaining businesses will be able to reopen on Monday as Ireland took a major step out of lockdown.
Face masks will be made mandatory on public transport, ministers said, as commuter numbers return to normal.
Air bridges will be established between countries with similarly low infection rates from 9 July, enabling people to travel without undergoing quarantine.
Prime minister Leo Varadkar hailed progress in suppressing the virus and said: "We have been able to accelerate the road map."
The number congregating indoors will be restricted to 50, the government said.
Up to 200 will be able to gather outdoors using physical distancing while families will have greater ability to meet up.
Health minister Simon Harris added: "It is going to be a week of intense emotions, intense support and intense joy."
In his speech on healthcare, Joe Biden also criticised President Trump for calling coronavirus testing a "double-edged sword" during his Saturday rally in Tulsa.
"Testing unequivocally saves lives, and widespread testing is the key to opening up our economy again — so that's one edge of the sword," Biden said in Pennsylvania.
"The other edge: that he thinks finding out that more Americans are sick will make him look bad. And that's what he's worried about. He's worried about looking bad."
Play Video 'He's like a child': Biden attacks Trump's coronavirus response – video
The presumptive Democratic presidential nominee also urged Americans to socially distance and wear masks to limit the spread of coronavirus.
"We're going to have to wear masks. And I know as Americans it's not something we're used to. But it matters," Biden said.
"We're going to have to socially distance. It's not easy. It seems so strange to us. … But for now, we have to socially distance. It matters."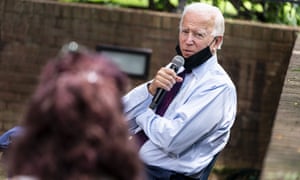 Democratic presidential candidate Joe Biden speaks to families who have benefited from the Affordable Care Act during an event in Pennsylvania. Photograph: Joshua Roberts/Getty Images
Colombia's first confirmed death from Covid-19 occurred in late February, more than a week before the country originally reported its first case of the virus, the government's statistics agency said.
The country had reported its first case on 6 March and what was thought to be its first death, a 58-year-old taxi driver in the Caribbean city of Cartagena, on 21 March.
But death figures published by the statistics agency show the first suspected death from the virus occurred on 15 February, while the first confirmed death took place on 26 February.
The country registered 30 confirmed deaths from Covid-19 and 94 suspected ones in the first quarter, the DANE agency added.
Some 40 per cent of deaths in the quarter occurred in capital city Bogota, while provinces Valle del Cauca and Bolivar accounted for 23% and 10% respectively.
Antioquia province, home to second city Medellin, accounted for 59% of suspected deaths, DANE said.
Joe Biden delivered remarks on healthcare in Lancaster, Pennsylvania, as more than half of US states report increases in the number of new coronavirus cases.
The presumptive Democratic presidential nominee accused President Trump of mishandling the US response to the pandemic.
"He's like a child who can't believe this has happened to him," Biden said.
"All his whining and self-pity. Well, this pandemic didn't happen to him; it happened to all of us. And his job isn't to whine about it. His job is to do something about it."